Valorant games, which rapidly entered the first-person video game category of multiplayer tactical FPS (Frame Per Second) in 2019 and received a lot of attention in Turkey from the first day of its release, are rapidly increasing among women. ESA Rebels Powered by Dell, Turkey's first brave women's tournament series, was held with the participation of successful young female players from Turkey. As the title sponsor of the first professional esports league this year, Coca-Cola's goal is to minimize gender inequality in esports, where one in five women. At the ESAE sports Arena in Maslak, I met the successful players of the Valorant Women's League and asked what they were thinking.
Başak Karaca / Coca-Cola Turkey General Manager
Our purpose Gender inequality Reduce
"As Coca-Cola, we are doing our best to strengthen our esports with investment, but our other goal is in the field of esports, where there is only one in five players. To minimize gender inequality in. To achieve this goal, we are working with ESA Esports & Media to implement ESA REBELS Powered by Dell, the first woman in Turkey. A brave tournament series and our main partner.
Tournaments give female athletes the opportunity to improve themselves and represent us in the best possible way on the world stage. Our primary goal is to further develop this partnership. This partnership is to begin to show how strong women will be successful in the coming years and bring talented female actors to our country. "
Büşra Yurdabak (25) / BBL player
To the world of e-sports I rushed into a pandemic
"I graduated from the Faculty of Culinary Sciences at Nishan Tash University. After cooking for three years, I came across the world of games during a pandemic. I wasn't really involved in computers until the pandemic. I am very happy with myself. The world of games in a very short time. I am ambitious and participated in the tournaments I participated in. I joined the team with the high success I showed. As a woman, I We're really new in the world of E-Sports, so for three years. As women, we can be exposed to a lot of bad words and harassment in the game.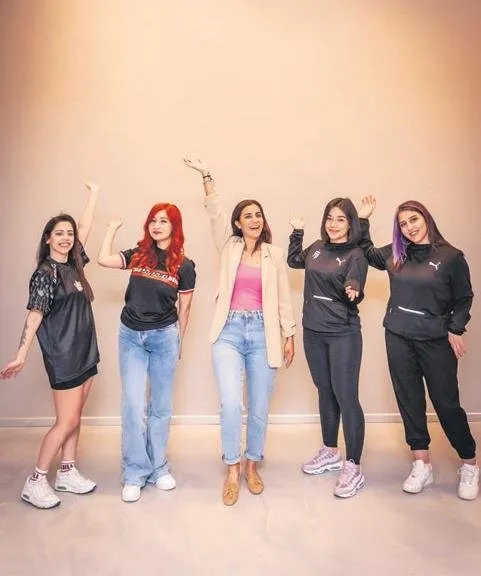 When it comes to playstyle, there is no difference between us and men. In fact, they are more impatient. Female intelligence closes male reflex speed. I am also a night owl. I sleep at 5 or 6 in the morning and wake up in the afternoon. My family initially opposed it, they said, "Do your job." During the pandemic, I cooked and was cold. I was very happy when I learned that success in the game could advance my profession and make money. My family started to support me when I was making money and they saw me doing a serious job in this area. "
Neslişah Demir (21) / Football Player Team Captain
In valorant I'm a sniper
"I'm a paid insured player on a soccer team. I'm a sniper who oversees the game, gives commands and tactics in Barorant, and starts the struggle first. I'm the best Turkish woman. Is a game where women are most valued in the game world. My family has always supported me. It is a very difficult chemistry for men and women to participate in this game.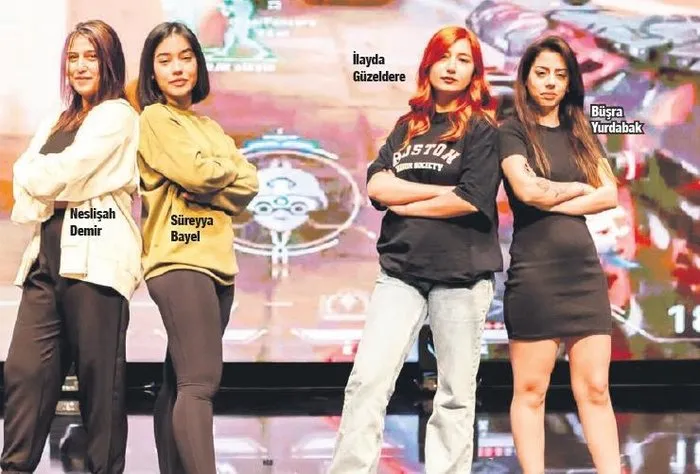 Men play harder and more excited, they are more cruel to their teammates in the game. In the game, play as hard as a man, with high adrenaline and aggressiveness. My sleep pattern is different from normal people. I start the day at 5 pm and go to bed at 5 am. I play games at night and sleep during the day. I play for almost 10 hours a day. My diet is based on fast food. It is clumsy due to eye inactivity, myopia, and astigmatism. My eyes broke while reading an e-book. I am the person I want to be and live the life I want to live. "
Sureyya Bayel (23) / Futbolist player
My family is in the pharmaceutical industry. She wants to be me
"I studied with a scholarship in the Faculty of Chemical Engineering and Biology at Kochi University and studied with a scholarship at Science High School. I am the most insidious character of ambush, changing games. I have one or two friends. I'm very smart and distinguish myself from male actors. That's the problem. When I play with a guy, when I outperform him , It turns out that it's not my muscle memory. Their reflexes, their muscle memory is more. What sets them apart from men is to be smart. In the future, a cosmetic career. My family wants a career in the pharmaceutical industry. Academically. My sleep and diet are good. I think I'm living a quality life. But in tournaments My sleep routine changes over time. My diet is good, I don't eat fast food. My family didn't interfere with my performance. Now I get paid. "
וlayda Güzeldere (20) / Super Massive Blaze actress
Previous my grandmother He was angry, now he is looking at me
"I have two majors in law, politics, and international affairs at Maltepe University. I'm a sophomore, and on average I've passed the first year. I saw the world of games from my mother and cousin. I met E.-Sports when I was 6-6 I loved ballorant games. I want to be the best in the game world and in my professional life. I want to be a professional ambassador. I aim to run in both. At the same time, I am very successful. I like the competition most in the game. I don't think there is a difference between men and women when playing this game. With my boyfriend I play games better than him. Recently, I spend a lot of time on E-Sports, so my sleep patterns are changing. I live with my grandmother. So she didn't want to play the game at first, so when he first saw the character, he said, "My daughter, these are witches." I understood and accepted. I used to read a lot of books, but nowadays I don't have much time. I can't eat very healthy. "
Lale Ergin / ESA Esports & Media Co-Founder and CEO
Female Better teeth There is a field
"I've been in this industry for about three years. Esports is a new and rapidly evolving industry around the world … I'm the mother of an 18 year old girl. Is completely against sexism in sports. There is no distinction between men and women in Valorant games. There is no difference with men. On the contrary, there are better areas. These tournaments if girls are given a chance. The goal is to give girls the opportunity to show off themselves. In the future, we would like to hold a tournament where women are required to be assigned. Predicting the work of children over the next 10 years. "The world is moving. That's why I always advise my family not to rob my family of children from the digital world. Playing with friends in the digital world is like playing the ball outside. They fall into the same socialization category. "
..