Yitzak Herzog He became the first Israeli president to come to Turkey 14 years later.
This development "Minute" Turkey-Israel disbanded after exit Relationship normalization. What you start The most stable indicator.
Yes between us Palestine Our stance Israeli PKK-YPG trump card Don't hesitate to use favorite There is a burning contradiction.
However, a new alliance is being formed in the void created by the withdrawal of the United States from Afghanistan and its territories.With Israel "Fatal enemy" Arab countries that seem to be meeting one after another.
With such an equation, it is unlikely that Turkey would claim its 13-year status. Moreover, east Mediterranean energy resources. New by posting balance Formed, the importance of cooperation between Turkey and Israel felt very clear in itself …
Moreover, if we cease diplomatic relations with countries that support Tel Aviv's dissertation or PKK-YPG in the struggle between Israel and Palestine, no country, including the United States and Russia, can speak.
There is nothing to say to the radicals who oppose this rational foreign policy view for ideological reasons. This battle is the reason for their existence. In Israel Zionists too New president, "At the feet of Erdogan lost" They are hitting the ground for ridiculous reasons.
But foreign policy "As an American" Don't hesitate to write openly Ahmet Dout Guruof "Islamic poses " It's just funny … like a passion beyond his height, he's trying to put it in his jacket. "Withered people Vision shirt " The size is too big to fit.
Biden's "Are you medium?Inheritance " Get a bid on February 28th. And PKK's Legal Department Alliance Reaction from the Felicity Party It's like saying "Yu".
I couldn't believe my ears … Erdogan's voice with the slogan I chanted in yesterday's demo "Zionist collaborator" They were talking!
Enough to imply "Zionist" in a symbolic name like Erdogan, who took the most open attitude towards Israeli expansionist policy on the international stage with his legendary "1 minute" debut. Who is Shirazesh floating with? It's clear he's working together is not it?
*** ***
What do you say to a man?
Yesterday, youth on social media, Good Party International Head of Policy Ahmet ErosThey are high in the following tweets that rated Antalya's historic summit.
"This isn't mediation, it's just a" photo opportunity "… If it's a table, it's clear that we couldn't host a meaningful event, strengthening the conflict … small Round table not found teeth..? "
What do you guys do? Nerve tension …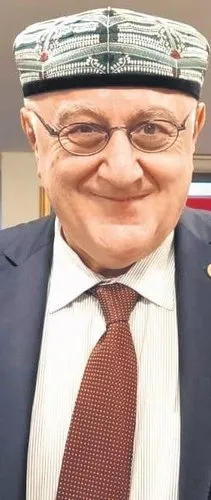 Declaration of February 28 Russia-Ukraine War Noise victim Even the Israeli newspaper as if he wasn't enough to go "The only winner of the crisis Erdogan " There is an article saying …
President of Ukraine Zelensky "Turkey and America Become a guarantor To tell…
US President Biden Kyiv And the most prestigious in Moscow actor Turkey's Telephone conversation with the president In pursuit of…
The Russian and Ukrainian foreign ministers, who are attracting worldwide attention, are in Antalya, which they chose for negotiations. Turkish Foreign Affairs At the table set by the Minister They share the trump card …
Of course, being non-professional doesn't show your anger, but …
Round table engagementYour fetish Understand your intense feelings I need to meet you.
You can listen to this column by clicking the link below.
Melih Altinok | Erdogan is no longer called a "collaborator Zionist"!
..