Turkey continues to make history with movements in the domestic and defense industries … one of which is shooting from the TCG Preveze submarine …
For the first time, a real target was shot with an AKYA torpedo. The shooting was successfully carried out by Defense Minister Hulusi Akar using the National Production Integrated Combat Management System (MÜREN).
Before moving on to why this shot is important, it's helpful to remember some information about the MUREN system. Within the scope of the project, all solutions are envisioned, including integration of 20 different sensors and navigation systems, sonar signal processing, target movement analysis, ship navigation, various torpedo trajectory plans, and regional and national algorithms. I did. And the project, fully revealed by the efforts of Turkish scientists, was integrated into the submarine for the first time in the last few months.
AKYA, on the other hand, reflects Turkey's precision-guided munitions, high-speed intelligent rockets and missile systems in blue depth. AKYA can be fired from submarines to various surface targets and submarines. Developed entirely with national resources, AKYA meets the Turkish Navy's key needs for underwater platforms.
[TCG Preveze'den MÜREN sistemi kullanılarak AKYA ateşlenmesi bir dönüm noktası olarak kabul ediliyor.]
Why is the partnership between MUREN and AKYA so important?
Defense and maritime researcher Kozan Selçuk Erkan believes that the shootings made in the past are of great value … "Manufacturing one of the most modern torpedoes in the world and launching it in a domestic war management system, The situation will change. "
After that, he clarified the theme of "how things changed" and the view that "this will not only free us from dependence on foreign countries, but also make us a country that has a say in the theme of submarines." Share.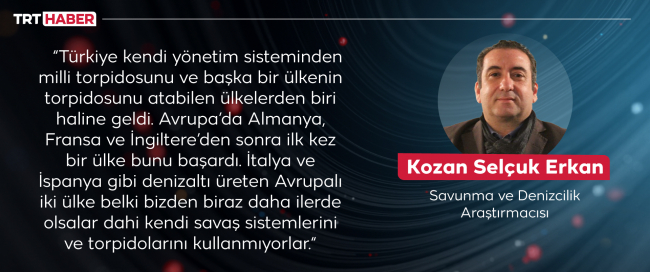 Few countries in the world can do this.
The main problem that Ercan is paying attention to is the fact that there are very few countries in the world that can take shots of the problem. When asked why, he said:
"Turkey has become one of the countries that can throw its own torpedoes and torpedoes from other countries out of its own management system. Turkey achieved this for the first time in Europe, following Germany, France and the United Kingdom. The two European countries that produce submarines, such as Italy and Spain, do not use their own war systems or torpedoes, perhaps even a little further away from us.
Submarines are strategic nuclear weapons … Submarines do more than just sink ships. In a real war situation, you need to think of these vehicles as a platform that can achieve great things independently of all kinds of effects. For example, it should be remembered that submarines can launch new generation cruise missiles, and that submarines are very special vehicles that can infiltrate and intelligence as needed.
A war management system is a state-of-the-art technology that collects all these tasks internally, enabling information processing and accurate and rapid decision making. Turkey has successfully tested this with MUREN. It's a historic event … "
[Milli imkanlarla geliştirilen AKYA torpidosu Türkiye'nin bu alandaki kabiliyetlerini daha da artıracak.]
Almost every other country uses a similar system
After some technical points, Kozan Selçuk Erkan also shares valuable information about the strategic aspects of photography … First of all, he has one of the most important elements of the war as the "surprise element". Emphasize that.
"Weapons that opponents don't know what they are have a surprising element." He continues after saying:
"Unfortunately, there are the same German torpedoes in 18 countries around the world, including the Greeks … what does that mean? That means there aren't many unknown aspects. Some Navy Has only one advanced type of torpedo, so it's easy to take precautions if you're using the same torpedo.
For example, to elaborate a little more, the frequency of the torpedo seeker coil your opponent uses against you is the same as your hand underwater. The approach angle, depth, and similar functionality are the same. In fact, having a system in your hands and knowing the details is also comforting to your opponents. It's always easier to defend against a system you know.
We confuse this with AKYA … with the Müren Savaş management system, we hide how we behave. In other words, we are actually clinching invaluable ambiguity in both elements. "

AKYA-MÜREN Duo may be a new student in the world
Here we intervene and ask if there is a similar relationship between Turkey's S0054HA and its ammunition MAM-L on a submarine.
According to Kozan Selçuk Erkan, this is one of the good things about this job … "We have developed a new dynamic duo that does not depend on a single type of submarine. In other words, we have almost everything in the western world. We have built a war system that can be installed on diesel electric submarines and excellent torpedoes that can be launched. "
He says that if we could provide this in a cost-effective way, like a UAV, the balance would change.
"If we could offer this development in a cost-effective way in the modernization of very expensive submarines, we would be one of the most important players in the world. In the world where we can provide such high-tech solutions. The number of countries does not exceed the fingers of one hand. No one can provide them cost-effectively. If these achievements of our engineers are really supported, great benefits will be achieved. ..
It is modernizing an old French submarine currently owned by Pakistan. In this respect, we can create new markets in the world. As Turkey, we provide this market with not only torpedoes, but also state-of-the-art war management systems.
Here you need to open the brackets for the country's submarines … All the modernization that has taken place is a component of the country's submarines. Today, we have created the brains of national submarines through this modernization. By throwing national torpedoes, we increased the independence of the subsystem. These are steps that are drawing attention as a turning point in history … "
..