The debt and financial difficulties of Turkish football clubs have become an unresolved knot in recent years.
In this story, which everyone knows now, the recent currency crisis has doubled the amount of money that has been taken care of.
A new sports law has been enacted to prevent the club's financial difficulties.
The new sports law aims to turn the club into a joint-stock company, transfer debt liability to the government, and prevent the club's financial difficulties.
However, experts say the law is not enough to end the club's debt.
Laws accused of trying to save the day instead of solving the structural problems of Turkish football are said to be unable to solve the club's debt problems.
Sports economist Tuğrul Akşar states that the law seeks to address financial problems only on a criminal basis and does not provide a comprehensive solution that can increase Turkey's sports income.
Altuğ Özaslan, CEO of asset management firm Fortuna Capital, states that clubs cannot carry forward debt unless they can generate cash, but neither the Turkish economy nor the football economy is capable of generating such income.
"The law may be very well written, but how it will be implemented and how the club will be transformed," said Didem Dilmen, sports writer and communications director at football startup Comparisonator. I can't find any explanation for this. "
According to Dilmen, it's not clear how all football clubs with different structures, such as associations and listed companies, will turn into joint-stock companies.
How did the club fall into this huge debt?
One of the biggest financial problems of football clubs is that the cost is the euro, but the profit is the Turkish lira.
As a result, the 2018 and last year's currency crisis increased club debt.
According to Fortuna Capital CEO Altuğ Özaslan, football club debt cannot be considered separately from the Turkish economy.
"Of course, the mistakes of the past have snowballed to this day, but the loss of value for TL has created as much debt in three years as Turkish football has created in the last two decades. . "
Wages such as salaries, bonuses, and administrative fees that clubs have to pay for foreign players doubled with the exchange rate, but football club income did not increase at the same rate.
This forced the club to cover the difference with a loan.
Özaslan adds that the wages given to both domestic and foreign players in Turkey far exceed their value.
"In Spain, a player receives about 2 million euros a year, of which 1 million euros are paid in taxes, but when he brings this player to Turkey, he gives him 3 million euros a year, and then taxes. I will bear it.
"In addition to that, adding a letter of recommendation and a manager's fee that exceeds its value will give you an idea of ​​why Turkish football went bankrupt financially."
According to Ozaslan, these high wages occur when the club manager decides not to hire his company for the football club because he is not responsible.
Political impact on football
Sports economist Tuğrul Akşar states that the monetary expansion of Turkish sports has increased rapidly over the last two decades, but no management team can manage this expansion.
Akşar states that the club's expenses will increase, but its income will decrease, so it will need to be borrowed to continue its current activities.
"Today, we are facing a league structure that lacks our own resources, can't do it in sports terms, loses one-third of our income due to a pandemic, is delayed in evaluation, and has receded in the UEFA. Ranking. "
Akşar believes that the new sports law will strengthen the political advantage over football.
"When a club loses its financial balance, it becomes more open to politics, which allows politics to become more influential in sports and football."
Emphasizing that the political influence on European football is at its lowest level, Axial also emphasizes that the club is not in an accountable structure and is not well supervised.
The total debt of the four teams reached 17 billion lira
Let's take a look at the football club debt in question.
Besiktas, Fenerbahce, Galatasaray and Trabzonspor, the four greats of Turkish football, lost 1,021 million lira in nine months.
Clubs that submit a nine-month balance sheet to the Public Disclosure Platform (KAP) for a period covering June 1, 2021 and February 28, 2022 are in debt at least four times their annual income.
According to the notification to KAP, the club's total debt is increasing every year.
The total debt of these four teams reached 17 billion TL.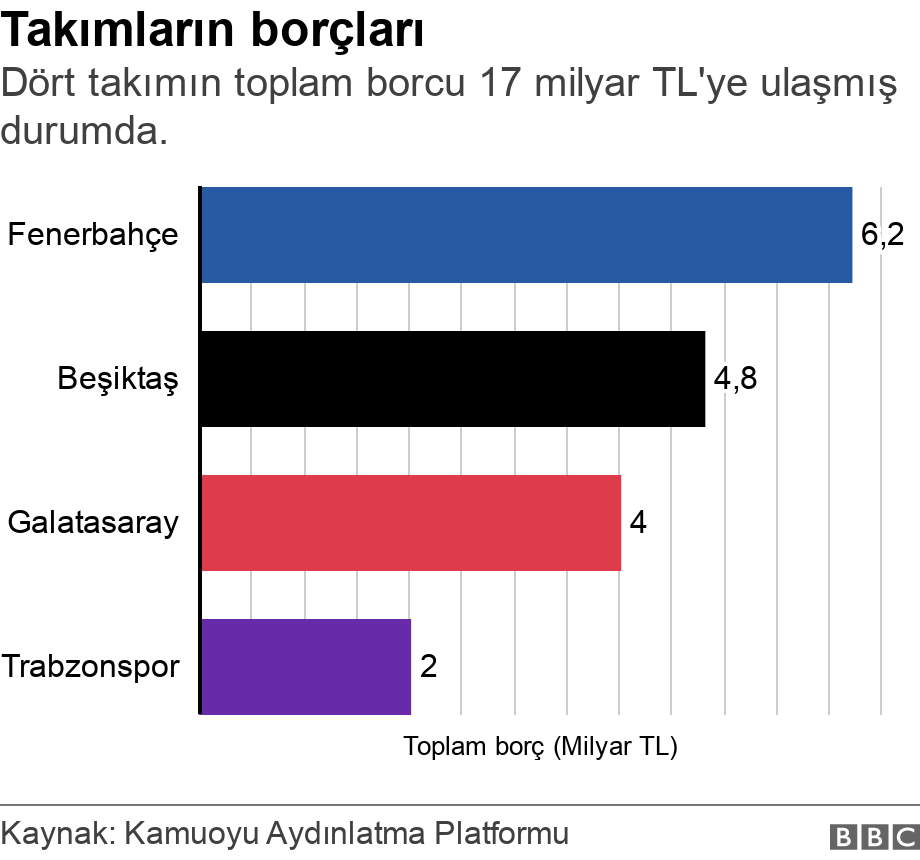 "Soccer players are being bought over budget"
Soccer club income consists of game day income, broadcasting income, and commercial income.
Commercial revenue also comes from commercial activities such as sponsorship, product sales and stadium tours.
The bid for the next season's broadcast in Turkey has not yet been finalized.
According to experts, this alone is a problem for soccer clubs in terms of income.
However, according to sports writer Didem Dillmen, clubs can earn the most from the sale of soccer players.
"If you buy a soccer player who doesn't make much money by allocating an excessive budget and you can't sell it, you're in a position to always shop from your credit card but not think about how to pay for it. ..
"For example, if you bought Falcao but didn't get anything and sold this player for a loss, you know that the player wasn't successful in the sport."
When Galatasaray purchased Radamel Falcao for three years in 2019, it was announced that players would be paid € 5 million annually.
Soccer players transferred to the Rayo Vallecano team in Spain last year.
Galatasaray paid Falcao € 3 million, announcing the mutual termination of the contract.
Rayo Vallecano received Falcao's annual salary of € 2 million.
What do you do after that?
According to sports writer Didem Dillmen, football clubs need to be transformed into professionally run for-profit companies.
However, this requires proper management of the migration process and training for qualified professionals to handle this task.
Dilmen emphasizes that there is a huge amount of financial support behind the world's most successful football clubs, but Turkey does not have such an opportunity.
Meanwhile, breakthroughs in digital spaces such as NFTs (Non-Fungible Tokens), Funcoins and Metaverse are also beginning to generate new sources of income for other clubs around the world.
However, according to Dilmen, no club in Turkey can pioneer this. In general, the example of the world is imitated.
Meanwhile, sports economist Tuğrul Akşar emphasizes the need to thoroughly analyze and structure the direction of sports and football in Europe and the world accordingly.
Akşar commented: "These are professional football clubs.
"This is a sport. If you don't manage your money well, you have to face negative consequences.
"If you make a profit, do not follow social justice and the conscience of the people, and do not follow the ethics of sports, you expect the support of the people."